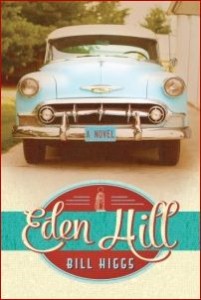 Nothing seems to change in Eden Hill, Kentucky, and that's just fine with Virgil T. Osgood. He's been content to raise his family and run the only service station in town. But when a new station is set to open right across the road from Virgil's pumps, he suddenly faces obstacles in his career, his marriage, and his self-worth that he's never even dreamed of.
Cornelius Alexander wants his new Zipco station to succeed and help establish a strong foundation for his growing family. As long as he follows the Zipco guide, he's sure to be a success–and prove his father wrong.
Reverend Caudill wants to be a conduit for grace in his town, but that grace is challenged by the changes sweeping through in the early 1960s. For the sake of this small town, Virgil and Cornelius must learn to get along, but how do you love your neighbor when his very presence threatens to upend everything you hold dear?
Tyndale House Publishers, July, 2016
Want more? Here's the first chapter…
______________________________
More news 1/1/2023: Once again, Eden Hill is available as an eBook for the scary crazy low price of $1.99! Less than half a cup of coffee at your favorite overpriced millenial-friendly sipping spot. Less than you paid for the 70% off light-up LED snowman that you couldn't resist because, hey, it was on after Christmas sale. And a LOT less than the extra topping you ordered on your almost-everything large pizza! Good stuff, this. Click HERE to purchase:
https://www.tyndale.com/p/eden-hill/8751/e-book
————
News 9/2/2022: I'm happy to announce that I've signed with the Linda S. Glaz Literary Agency for representation for future projects! It is such a delight (and quite humbling) to be part of such a fantastic team of professionals and creatives.
I do so with many thanks to Diana Flegel and Jim Hart, formerly of the Hartline Literary agency, who have been a great encouragement to me over the last several years and have made this amazing connection possible. I look forward to working with my new agent, and to creating new stories.
And, many thanks to all my readers who have encouraged this old geezer in his storytelling.
Blessings!
-Bill
Disclosure of Material Connection: Some of the links in the page above are "affiliate links." This means if you click on the link and purchase the item, I will receive an affiliate commission. I am disclosing this in accordance with the Federal Trade Commission's 16 CFR, Part 255 : "Guides Concerning the Use of Endorsements and Testimonials in Advertising." Also note that we do NOT use cookies on this site or collect user information, but affiliate sites above may be subject to additional disclaimers.